Reading Time:
6
minutes
The first radio to be widely known as the more common name "walkie-talkie" was developed by current market leaders Motorola. This guide explores how the use of two-way radios can be highly beneficial to businesses, and how in particular Motorola are the chosen choice of brand leading the way in two-way.
During these uncertain times in our workplaces, two-way radio communications can be critical for effective and safe daily operations.
The current COVID-19 crisis has affected all industries but in particular our hospitals and healthcare workers are being stretched to the limit to meet the increased demand for patient care.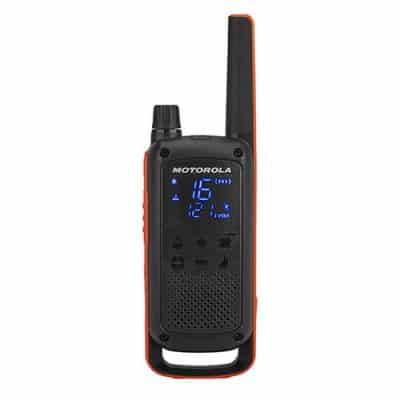 Most healthcare facilities have their main focus on efficiency, productivity and secure operations. Two-way radios offer improved real-time communications among staff members within medical facilities. Radios provide a reliable experience with patients and visitors to have a fast response from health care workers.  Medical staff, security staff and other support staff can also use two-way radios as an efficient way to communicate within their departments while maintaining recommended social distancing guidelines.
If workers are able to communicate, they will have the correct information, limiting the possibilities of worst case scenarios. Two-way radios are critical for a safe and secure environment, considering the increased level of screening being conducted at all hospitals. Emergency preparedness communications can be conducted with Motorola two-way radios across any size coverage area.
The benefits of using Motorola two-way radio systems in the workplace are vast, not just in within healthcare but hospitality, retail, manufacturing and commercial office spaces.
Let's take a closer look at what these devices offer and how they can help your business adapt to the now socially distant world.
No Fuss, Ready to Use Radio Solution
Everyone from retail workers to hospitality & care home workers are looking for a solution that will help to overcome the challenges social distancing creates.
A Cost Effective Yet Safe Communication Solution
Less expensive than the licensed alternatives, Motorola radios are a reliable solution that won't break the bank.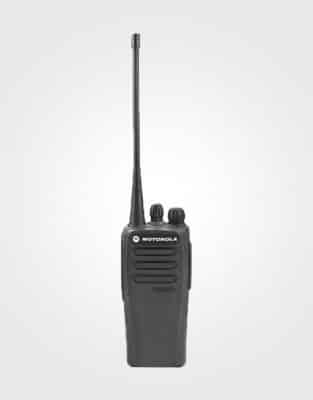 To make things even easier they are also available in bundles coming as a complete communications solution.
Simple to Operate
Two-way radios are easy & simple to operate, making them extremely user friendly for those who aren't familiar with walkie talkies.
Many businesses choose this solution as they're easy to use and allow staff to focus on their priorities.
Two-way-radios allow teams to communicate over a range of floors and departments within the business helping your team run as efficiently as possible.
Motorola radios are a light-weight, no-nonsense, solution to contactless communication.
Compact, Robust & Durable
Whilst keeping a discreet & stylish design, license-free devices are lightweight & built for regular use.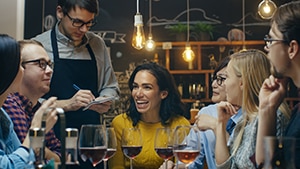 Two-way radios are a great hassle-free solution to get you through the months ahead, many are built with industries such as retail or hospitality in mind & can be used straight from the box.
So what is the best Motorola two – way radio on the market, we've done some research and here's our comparison –
First on the list is the Motorola DLR series radios. This is highly recommended in fast paced environments such as hospitals where, patient attention requires multiple interactions and coordination among doctors, nurses and technicians, as well as administrative staff and cleaning services. Effective, clear and discrete communications play a critical role in patient care activities and an overall healthcare experience. With its sleek and lightweight design it allows medical staff to easily wear the radio on their belt, uniform or in pockets, making it very convenient to carry at all times. The radio's easy operation and friendly voice prompts allow new staff members to pick up a radio and start communicating right away. With Motorola radios, all hospital staff can rely on clear communications across the different floors and maintain crystal clear audio up to a range coverage of 300K sq ft / 20 floors. The radios tough polycarbonate housing, contains built-in antimicrobial materials that inhibit the growth of bacteria and mould on radio surfaces making it ideal for healthcare applications.
The latest generation of two-way radio systems by the brand is the PMR446 radio – The Motorola CLPe.
The perfect answer to all of your contactless communication needs – the Motorola CLPe series. 
What is the Motorola CLPe?
The Motorola CLPe is a licence-free, discreet radio that will allow staff to communicate effortlessly, whilst focusing on the needs of the customer. This PMR446 two-way-radio will allow your front-of-house staff and back-of-house staff to work together with ease.
The use of contactless communication devices, such as the Motorola CLPe has many benefits. It helps staff comply with social distancing guidelines and aids them in working together, as part of an efficient team.
The Motorola CLPe PMR446 radio is extremely versatile and suitable for a range of businesses including, retail, hospitality, and care.
The new Motorola CLPe is an essential communications tool for any high-performance team. This new palm-sized radio is just as durable and reliable as its predecessor along with a range of exciting new features.
What does the new CLPe have that it's predecessor the CLP446 didn't?
The previous model held an impressive battery life of 9-14 hours. However, the new and improved model boasts a massive 20 hours battery life – the perfect companion for staff who work long shifts.
The new CLPe model also has 16 channel options, twice as many as the previous model. The newest generation also boasts a remarkable range of up to 6 floors/7,400m2 giving you superior voice quality in multi-storey buildings.
The latest model of CLPe series is designed with comfort and ease of use as a priority. Clever additions such as a textured, centrally located push-to-talk (PTT) button and a redesigned earpiece provide ease of use.
The new CLPe also provides crisp and clear audio which can be adjusted between 15 different volume levels.
The newly included smart status glow ring indicates volume level, mute, battery status, active channel, and other useful features.
Including pre-defined voice prompts like the previous model, you can now add custom voice prompts too.
This device is not only easy to use, it is also stylish, discreet, and durable. The device is built using polycarbonate housing which is IP54 and MIL-STD 810H rated, this ensures that the radio is protected from dust, water, vibration, shock, and temperature extremes.
Not just a pretty face…
The Motorola CLPe PMR446 radio is not just a stylish addition to your team's business comms kit, it's a reliable and versatile device that ensures easy communication between members of staff, and in turn, supports staff in providing exemplary customer service experience, whilst complying with social distancing guidelines.
To conclude, in today's unprecedented workspace, there's always room for improvement. And, as we ease back into normality, it's important we stay safe to keep our country thriving.
Maintaining production and safety at a distance can be tough, especially with close machinery or the need for multiple people on specific stations. You'll still need to be able to engage in Workie-Talkie!
…look no hands! The hands free walkie talkie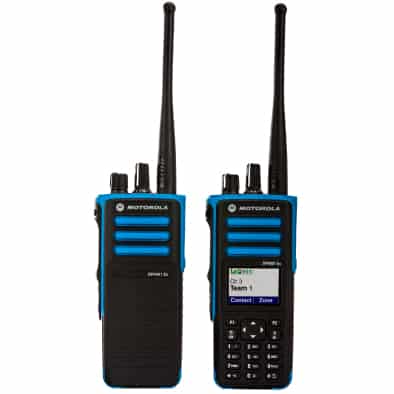 Being able to work faster to account for lessened workforces or increased demand is vital to maintaining every part of production. Motorola also offer accessories to their two-way radio systems such as the wireless comms headset with battery charging. Comfortable enough to wear all day without needing to use hands or disrupt the ability to work at full capacity. Whilst being able to communicate with your team.
With socially-distanced working and face-masks becoming the new uniform, things can be misheard, and throats can become sore. With a headset with high-quality audio, noise cancellation and crisp microphone input, this problem is no longer.
…a solution that works for all
The issue with other ear protection methods is their need for moulding such as ear plugs. These often need fitting to manufacturing standards within the ear canal which can be difficult and may lead to casualties.
A more cost effective, time saving, and comfortable alternative would be investing in a Motorola headset accessory.
We believe the future of distanced workplace communication will lie with business communications products, so lead the way with two-way in your business.
As always, please visit our Facebook page for more info, and remember we cover all of Ireland.